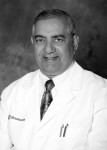 After more than 40 years in practice in Marion, Tarlok S. Purewal, MD, FACP, has joined OhioHealth Marion Area Physicians. Dr. Purewal's Internal Medicine practice provides general internal medicine, comprehensive physical examinations, well care and prevention, health screenings, illness care, immunizations, comprehensive chronic disease management, and care coordination for allergy, asthma, diabetes, hypertension, high cholesterol, and thyroid disease.
Dr. Purewal's training includes an internship at Aultman Hospital in Canton, Ohio, and residencies at Booth Memorial Medical Center in Flushing, New York, and Queens Hospital Center, Queens, New York. He is certified by the American Board of Internal Medicine, and is a fellow of the American College of Physicians.
Dr. Purewal and his staff will remain at 1130 Independence Avenue in Marion. To make an appointment, call (740) 387.6243.
More information about OhioHealth Marion Area Physicians can be found at OhioHealthMarionAreaPhysicians.com.