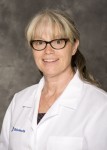 Deborah J. Burns, Certified Nurse Midwife, has joined OhioHealth Marion Area Physicians and is now accepting patients. As a certified nurse midwife, Burns participates in the delivery of babies as well as focuses on normal prenatal and postpartum care, gynecological care, women's health, and education.
"I am excited to bring a holistic approach to women's health that incorporates expert screening, counseling, and referral," Burns says.
Burns received her Bachelor of Science in Nursing from The Ohio State University and Master of Science in Nursing, Nurse-Midwifery from Frances Payne Bolton School of Nursing, Case Western Reserve University. She is a member of the American College of Nurse Midwives.
She joins the Obstetric/Gynecology practice of James Bazzoli, MD; Rebecca Crockett, DO, and Joseph Rizzo, MD. To make an appointment, or for more information, please call (740) 383.8080 or toll free (800) 282.6741.
More information about OhioHealth Marion Area Physicians can be found at OhioHealthMarionAreaPhysicians.com.