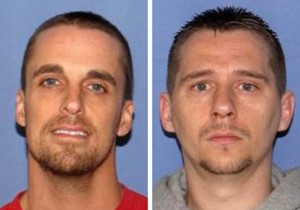 UPDATE: Police report that both suspects were arrested on Saturday, November 16, 2013.
The Marion Police Department is actively searching for two suspects they say teamed up to rob a Speedway gas station at gun point during the early morning hours of Thursday, November 14, 2013.
Investigators say a local business reported having the robbery suspect whose photo was released Thursday, on their video surveillance system acting suspicious in their establishment. Video was obtained from the business which officials say showed the same person from the Speedway robbery video.
In addition to the video, police say an alert employee of the business followed the subject to the parking lot and obtained a license plate number from the vehicle he entered.
With that information detectives of the Marion Police Department soon identified two suspects in the Speedway robbery case. An all-out manhunt was launched for these two suspects, and it is still ongoing. The weapon used in the Speedway robbery has been recovered by police.
Police are seeking Johnny R. Russell, 37, last known address (lka) of 416 Davids Street in Marion and Bradley Miller, 30, lka 495 Mound Street in Marion. Russell is currently on parole.
"The business coming forward and the employee getting the license plate number from the vehicle was the key to breaking the case open," stated Major Bill Collins.
Major Collins is asking anyone with information about the whereabouts of either suspect to call 911 immediately.
"Both suspects have had access to firearms, and have been arrested on prior robbery and weapons charges," warned Major Collins. "These guys should be considered very dangerous."
If anyone has any information regarding the above, you are urged to contact the Marion Police Department at 387-2525 or the Tips Line at 375-8477.