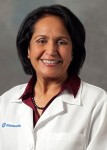 Madhu Mehta, MD, has joined OhioHealth Marion Area Physicians and is now accepting patients. Dr. Mehta specializes in Rheumatology and has completed extensive research and teaching in areas of osteoporosis and rheumatoid arthritis. She is equally adept at managing a broad spectrum of other autoimmune and musculoskeletal disorders.
Dr. Mehta's post graduate training includes a fellowship in Rheumatology at The Ohio State University College of Medicine, where she has been a faculty member for almost 10 years. She is certified by the American Board of Internal Medicine in Rheumatology.
Dr. Mehta will see patients in both Marion and Delaware. To make an appointment, or for more information, please call (740) 383.7820 or toll free (800) 282.6741.
More information about OhioHealth Marion Area Physicians can be found at OhioHealthMarionAreaPhysicians.com.