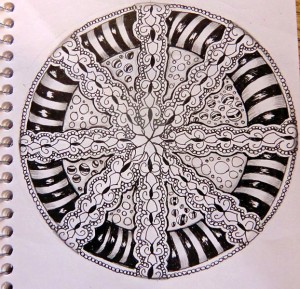 The Mid-Ohio Fine Art Society is offering Youth Art Classes for ages 7-13. The classes will feature Zentangle and will meet for 6 weeks on Monday evenings, 4:45pm to 5:45pm, January 20 through February 24, 2014.
Instruction will be given by Dianne Krumnow, a fully certified instructor in Zentangle, a trademarked creative process. Krumnow says Zentangle is a fun art form that stresses creating through repetitive pattern. She says these lessons are relaxing and help increase focus and inspire creativity in your child.
You can view more examples of Zentangle here.
The classes will be held at the Barlow Art Center in the Historic Women's Club Home, 1126 East Center Street in Marion.
Total cost for the class will be $48, paid in full prior to the first day of class. MOFAS member 10% discount is available. You can join MOFAS by visiting www.midohiofineartsociety.org (Click membership tab).
Class size is limited to 20 so organizers urge those interested to enroll early. Registration deadline is January 16, 2014.
For further information call MOFAS at 740-401-9278. You can also learn more and register online at www.midohiofineartsociety.org.
The classes are sponsored by Mid-Ohio Fine Art Society, Inc. (MOFAS) and the Barlow Art Center Committee of the Historic Marion Women's Club Home, with thanks to Laipply's Printing & Marketing Solutions, Inc.