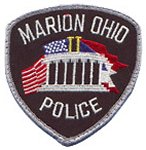 The Marion Police Department says they have arrested the final suspect wanted locally in the federal indictments handed down Wednesday. Officials reported that after a short foot pursuit on the south side of Marion late Wednesday night, Darrell Todd Jacobs was arrested and taken to the Multi-County Correctional Center.
Jacobs will be transferred to Toledo, Ohio for arraignment at a later date.
Local law enforcement officials said they would like to thank the local media and citizens for their help in locating Jacobs.
There are still suspects that have not been arrested, but officials say they are based in the Detroit area.