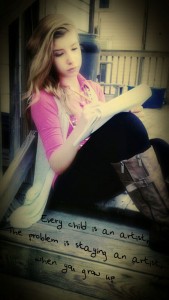 The Mid-Ohio Fine Art Society will host Discover, a juried art competition featuring high school artists, on Friday, March 7, 2014 at the Barlow Art Center. The show will be held from 6:00pm to 9:00pm with an artists' reception at 6:00pm.
MOFAS invited all Marion County high schools to participate. Students from Marion Harding, Elgin, Pleasant and Ridgedale high schools and Tri-Rivers Career Center will have work on display. Judges selected artwork from nearly 250 pieces of art during a jurying process that took place the week of February 10, 2014.
Jurors for the show are:
Internationally known artist Art Beery, a founding member of MOFAS known for his use of the continuous curved Mobius shape in his work.
Bronwen Babich, an artist and founding member of MOFAS who currently serves as the manager of community relations and development for The Ohio State University at Marion.
Kris Hyland Kolb, a photographer who taught art at Marion Harding High School and has work on display in Dublin, Powell, Worthington, Put-In-Bay and at the White House.
Participants took part in training that taught them how to prepare their art to be judged. MOFAS president Michael Schurch said he hopes the show offers high school art students the opportunity to learn more about the process that leads up to such opportunities.
"Art is a vital part of our community," Schurch said about the importance of encouraging students in the arts. "Besides its entertainment purposes, the performing and visual arts unlocks imagination and stirs students to pause, think and reflect. Art reminds students of the power to innovate and create, which is essential to the future of our community and our progress."
Marion Harding High School art teacher Dan Miller said he was pleased that MOFAS is providing an opportunity for high school art students to take part in a juried art show.
"It's a good experience to exhibit their art," he said. "Getting juried and entering a show, hopefully it will inspire more of them to try."
The show is free and open to the public. The Barlow Art Center is located in the Women's Club Home at 1126 E. Center St.
MOFAS also offers monthly art classes for beginner and intermediate level students from ages 7-13. The classes offer an affordable way for parents to broaden their children's skills and experience in the visual arts. The classes will be held 4:45-5:45 p.m. on Monday evenings from March 24 through May 12. More information is available by emailing team@midohiofineartsociety.org or leaving a voice mail at 740-401-9278.
Future plans for MOFAS include establishing a permanent youth art gallery and rotating exhibit for students.