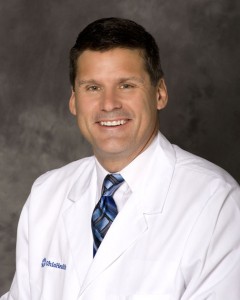 After 18 years in private practice, local Marion resident, Bradley Campbell, MD, has joined OhioHealth Marion Area Physicians. Dr. Campbell will continue to practice in his current location with his same staff and office hours. He said that he looks forward to his continued care in the Marion area and the opportunity to provide extended services offered by OhioHealth.
Dr. Campbell's Obstetrics/Gynecology practice includes robotic assisted laparoscopic surgery, general obstetrical and gynecological medicine, treatment for pelvic pain, endometriosis, bleeding disorders, and abnormal pap smears. His practice also provides preventive gynecologic services as well as advanced gynecological and obstetrical ultrasound (4 D ultrasounds).
Dr. Campbell is an active member of the medical staffs at Grant Medical Center and Marion General Hospital, and serves as the medical director of Robotic Surgery at Marion General. In addition, he is a member of the OhioHealth Robotic Steering Committee serving Riverside Methodist, Grant, Doctors, Dublin Methodist, and Marion General hospitals.
Dr. Campbell graduated from The Ohio State University where he received both his undergraduate degree in human nutrition, honors program, as well as his medical degree. He completed his residency training in obstetrics and gynecology at the University of South Carolina, School of Medicine, and later served as faculty for both the Department of OBGYN and Family Practice.
Dr. Campbell is board certified and a fellow of the American College of Obstetrics and Gynecology.
A native of Marion, Ohio and a graduate of Pleasant High School, Dr. Campbell resides in Marion with his wife, Mya, and two children, Drayson and Ellie.
For an appointment or more information, call (740) 387.2276.