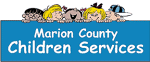 Many free activities, including games and inflatables, as well as an Easter Egg Hunt with a Disney trip grand prize will highlight the annual Pinwheel Play Day at Marion County Children Services this Saturday, April 26, 2014.
The day, which runs from 11:00am to 3:00pm, offers families free activities while highlighting the work of Children Services and other local non-profits. The pinwheel name comes from the hundreds of pinwheels planted in the agency's yard, one for each investigation completed. There are 776 pinwheels this year, representing the number of investigations in 2013.
The Easter egg hunt kicks off the day at 11:00am and the grand prize winner will receive a family trip for four to Walt Disney World.
The games, inflatables, and crafts will be available until 3:00pm. A concession stand will also be available. New attractions this year include a petting zoo sponsored by the Ridgedale FFA. Pony rides also will be available.
Marion County Children Services is located at 1680 Marion-Waldo Road.
For information, call 740-389-2317.