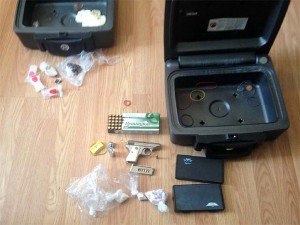 The MARMET Drug Task Force said they arrested a man from Detroit on Thursday for dealing drugs. The arrest came after detectives from MARMET executed a search warrant in relation to a month-long investigation into drug trafficking.
Shortly after 3:00 p.m. on May 29, 2014, MARMET detectives, with assistance of officers from the Marion Police Department and deputies from the Marion County Sheriff's Office, executed a search warrant at 238 East George Street.
Darius Spearman, 19, of Detroit, MI, was arrested for Trafficking in Heroin, Trafficking in Crack Cocaine, Possession of Drugs, and Having Weapons while Under Disability. At the time of his arrest, Spearman was out on bound from a prior arrest in Marion in March of 2014 for Trafficking in Heroin.
Detectives say they seized 6.5 grams of crack cocaine (worth about $720), 55 bindles of heroin (worth about $550), 20 grams of cocaine (worth about $2000), 28.5 grams of tar heroin (worth about $2850), miscellaneous pills, and a firearm.
"MARMET continues to aggressively track down and arrest drug dealers in Marion County," said Lt. Chris Adkins of the MARMET Drug Task Force. "MARMET detectives will continue their aggressiveness until a clear message is sent that drugs are not welcomed in this community."
Anyone with information on criminal activity is encouraged to call the Marion City Police Department at 740-387-2525, the Marion County Sheriff's Office at 740-382-8244 or the TIPS Line at 740-375-TIPS.