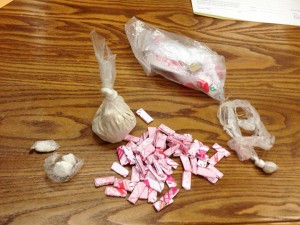 MARMET Drug Task Force arrested four people for alleged drug trafficking following the execution of search warrants at two houses Friday morning. Three of the suspects hail from Detroit Michigan. The raids came as part of a two month long investigation into drug trafficking.
Shortly before 10:00 a.m. on May 23, 2014, MARMET detectives with help from the Marion Police Department Special Response Team and officers from the Marion Police Department and the Marion County Sheriff's Office executed a search warrant at 200 Park Blvd.
Officers arrested Demetrius Bradford, 19, Kelsey Mallory, 19, and Antoine Morris, 20, all of Detroit, Michigan. All three were charged with Trafficking in Heroin.
Investigators said they seized 5.2 grams of heroin (worth about $800) and $1303 in cash during their search.
When the detectives concluded their search at the Park Blvd. address, they went to 615 Davids Street to serve an additional search warrant. There they arrested Larry C. Lewis, 36, of that same address. He was initially charged with Trafficking in Heroin and Possession of Cocaine.
Seized from the Davids Street location, according to officers, was 4.1 grams of crack, 41.3 grams of heroin and 66 bindles of heroin (worth about $15,000) and $809 in cash.
"MARMET continues to aggressively track down drug dealers in Marion County," said Major Jay McDonald of the MARMET Drug Task Force. "MARMET detectives are persistently working to rid our community of drug traffickers and I am VERY proud of the work they do."
All four suspects were transported to the Multi-County Correctional Center to await formal charges by the Marion County Prosecutor's Office.