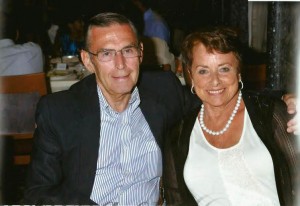 Duane and Lesta (Eblin) Basel will be celebrating their 50th Anniversary and their daughters are inviting the community to join them. A Celebration of Marriage will be held August 10, 2014  at the Fort Morrow Fire Station (306 North Main Street in Waldo) from 2:00pm to 4:00pm.
Duane and Lesta were married August 1, 1964 in Emmanuel Lutheran Church by the late Dr. M.E. Hollinson.   They are the parents of three daughters: Kristin (Doug) Guthrie of Marion, Kara (Mike ) Russell and the late Kim (John) Yirga of Gates Mills, Ohio. They have been blessed with six grandchildren: Kelly, Austin and Luke Guthrie of Marion: Jillian and Max Russell of Prospect and John (Jack) Yirga of Gates Mill, Ohio.
Duane retired from the insurance agency and Lesta  is still working at Elgin Local Schools in the secretary position for the last 25 years.
The community is invited to join the family as they celebrate this union in their life.