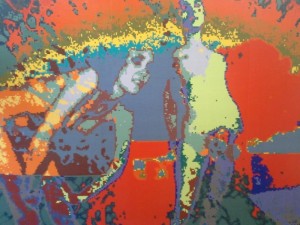 The Mid-Ohio Fine Art Society (MOFAS) will host an exhibit of the work of Glenn Rothman during an event on October 12, 2014 from 12:30pm to 4:30pm. Professor Rothman was classically trained and used oil, canvas, and traditional cameras and photographic techniques to create his images. In the early 1980's, Rothman began experimenting with computers as "a new way to paint." He was a pioneer in what was then a new process of image making.
Prior to his death in 2007, Professor Rothman's award-winning works were featured in over fifty solo exhibitions in the United States and abroad including at the Janus, London, England; the International Salon of Photography, Varna Bulgaria; Mumbai, India; Viridian Gallery, New York, NY; Hopkins Hall Gallery, The Ohio State University main campus; and OSU, Marion .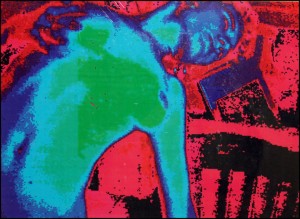 A rare piece of Rothman's art, Blue on Red numbered piece #1 of 20 (pictured at left), will be raffled at the exhibit on Sunday. Marion Area Chamber of Commerce members and OSU Alumni will receive upgraded raffle tickets.
MOFAS  says they are grateful to their Featured Gold Level Sponsor, The Rothman Gallery 307 W. Center LLC, J. Kay Rothman PhD Psychologist, Brandt-Roberts Galleries, and Marion Community Foundation.
The exhibit will be hosted at the Barlow Art Center Gallery, 1126 East Center Street in Marion.
Admission is free and open to the public. Donations are accepted and appreciated.
For additional details, go to www.MidOhioFineArtSociety.org or call 740-401-9278.