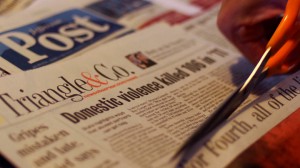 In observance of Domestic Violence Awareness Month, there will be a free, public screening of the HBO documentary, "Private Violence". This event is co-sponsored by Marion Technical College and Turning Point, the local domestic violence program.  The screening will take place on Wednesday, October 22, 2014 at 7:00 p.m. at the Health Technologies Building on the MTC campus.
"Private Violence is a feature-length documentary film and audience engagement campaign that explores a simple, but deeply disturbing fact of American life: the most dangerous place for a woman in America is her own home," said Paula Roller, Turning Point Executive Director.
Every day in the US, at least four women are murdered by abusive (and often, ex) partners.
"The knee-jerk response is to ask, 'why doesn't she just leave?'," said Roller. "Private Violence begins to shape powerful, new questions that hold the potential to change our society, such as why does he abuse, why do we turn away, and how do we begin to build a future without domestic violence."
After the screening, there will be a discussion about the film and the topic of domestic violence. Turning Point advocates will be available for those who have questions or for those who may be triggered by the film content. There will also be resources available regarding services for victims of domestic violence. Light refreshments will also be served for this event.
Due to limited seating, those interested in attending are asked to reserve your spot now. Make your reservation by email at martint@mtc.edu, by phone (740) 725-4014, or register online.