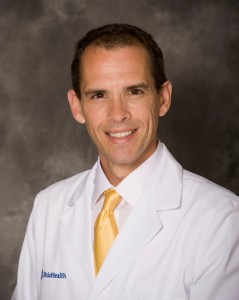 Timothy Schirmer, MD, recently joined OhioHealth Marion Area Physicians and the general surgery practice of Drs. John McDonough and Jose Vale. The addition of Dr. Schirmer to the team of Marion-based surgeons allows him to care for patients in Marion and have regular office hours at OhioHealth Hardin Memorial Hospital in Kenton, expanding access to surgery services for patients and referring physicians.
Dr. Schirmer offers more than 15 years of comprehensive general surgery experience in a range of surgical conditions, including laparoscopic surgery, such as gallbladder, hernias, splenectomy and appendectomy; breast and colon surgery; thyroid, thoracoscopic and endocrine surgery. He also holds special qualifications in Sentinel Lymphatic Mapping and advanced laparoscopic surgery.
"I am pleased to be able to offer patients expanded surgery services alongside the expert care of Dr. McDonough and Dr. Vale," says Dr. Schirmer. "Reaching out to those patients in the Kenton area as well as in Marion, allows us to provide needed surgical intervention in an even more timely and efficient manner."
Dr. Schirmer completed his undergraduate degree and medical school at The Ohio State University. His residency was completed at the University of Louisville. Dr. Schirmer is certified by the American Board of Surgery.
Dr. Schirmer is now accepting patients in Marion and Kenton at the OhioHealth Hardin Memorial Hospital Specialty Clinic. To make an appointment in the Marion office, located at 1040 Delaware Avenue, please call (740) 383.7950. To make an appointment in the Kenton office, located at 921 East Franklin Street, please call (419) 675.8101.
More information about OhioHealth Marion Area Physicians can be found at OhioHealthMarionAreaPhysicians.com.