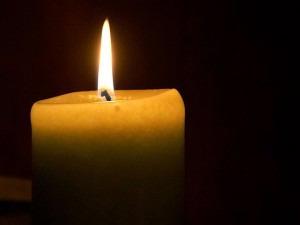 The Compassionate Friends Worldwide Candle Lighting unites family and friends around the globe in lighting candles for one hour to honor and remember children who have died at any age from any cause. As candles are lit at 7:00 p.m. local time, creating a virtual wave of light around the world, hundreds of thousands of persons commemorate and honor children in a way that transcends all ethnic, cultural and religious boundaries.
The local vigil will be held at St. Paul's Episcopal Church, 197 East Church Street in Marion, on December 14, 2014 from 6:30 pm through 8:00 pm.
Mary Brady started organizing the local effort after her son, Nick Brady, was killed on March 11, 2007. She said that soon after his death she found The Compassionate Friends website.
Attendees at Sunday's event are encouraged to bring a picture and or memorabilia of the child they wish to commemorate. These will not be kept. Someone will be available to read your child's name if you are unable. Poems or specific readings are also welcome as time allows.  If there is any specific song you would like played and time permits, this may be done.
For more information, you can contact Brady at marymbrady61@gmail.com.