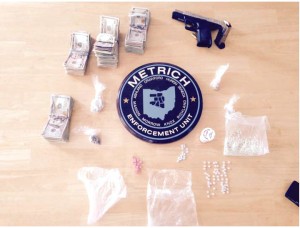 Marion law enforcement officials said they made two arrests as part of Operation Arctic Blast on Thursday morning. On January 8, 2015, members of the MARMET / METRICH Drug Task Force, Marion Police Department, and Marion County Sheriff's Office executed two search warrants at two different locations inside Marion. The joint operation was conducted after several months of investigation into the sale of illegal narcotics.
The operation took place just after 7:00am with detectives serving a warrant in the 400-block of Mary Street and another in the 100-block of Kenmore Avenue.
In the 400-block of Mary Street, MARMET detectives said they located drugs, cash, and a loaded handgun. Thousands of dollars worth of property was also seized from the residence.
Paris McGhee, age 34 of Marion, OH, was arrested inside the home. McGhee was arrested for weapons under disability, possession of drugs, possession of heroin, trafficking in heroin, and aggravated trafficking in drugs.
Officials said the following items were confiscated during the search warrant:
Smith and Wesson handgun
41.6 grams of heroin
14 Estasy pills
16 Alprazolam pills
2.2 grams of marijuana
58 Oxycodone pills
$11,551 cash
The second search warrant was executed in the 100-block of Kenmore Ave. Detectives arrested Emmanuel Donaldson of Detroit, MI. Donaldson was arrested for possession of heroin and trafficking in heroin. 8.1 grams of heroin was seized from Kenmore Ave. The approximate street value of the drugs taken from this residence is $7,000.
McGhee and Donaldson were transported to the Multi-County Correctional Center where they await formal charges from the Marion County Prosecutor's Office.
"This joint operation is a combined effort of Marion Police Chief Bill Collins' and Marion County Sheriff Tim Bailey's commitment to the safety and the security of this community," stated Lt. Chris Adkins of the MARMET Drug Task Force.
Assisting in the joint operation were deputies from the Marion County Dog Warden's Office.
Anyone wishing to provide information on a drug trafficking in their neighborhood is encouraged to contact the Marion County Sheriff's Office at 740-382-8244, Marion Police Department at 740-387-2525, and the Tips Line at 740-375-8477 (TIPS).