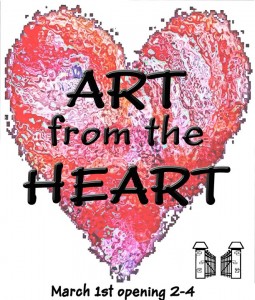 The Barlow Art Center has announced that they will hold an opening reception for their newest exhibit, "Art From The Heart." The reception will be Sunday, March 1, 2015 from 2:00pm to 4:00pm at the Barlow Art Center and will include beverages and light refreshments.
This show celebrates women and the art they love to create. It will feature artwork of both emerging and established Marion women artists including Betty Newcomer, Lannette Davis, Brenda Brewer, Annette Temple Montis, Joyce Wilson, Ellen Hines, Patty Sharp, Lora Workman and Amy Medley. The exhibit will also include photographs by Jamie Hawkins and Colleen Gilpin.
Guests will have the opportunity to get the first look at the new exhibit and speak to the artists about their inspiration.
The Barlow Art Center is located inside the Women's Club Home, 1126 East Center Street in Marion.
For more information, click here.