On March 22 – 28, 2015, the Boys & Girls Club of Marion County joins more than 4,100 Boys & Girls Clubs across America and on BGCA-affiliated Youth Centers on U.S. military installations with its annual celebration of National Boys & Girls Club Week. The week-long celebration calls attention to the important role Boys & Girls Clubs play to enable nearly 4 million young people each year to achieve great futures.
This year's theme – 'Open the Door. Take the Tour' – encourages communities, families, friends and supporters of its Club members to experience first-hand how the Boys & Girls Club is making a difference in the lives of young people. Tours will be offered all week.
As part of the week, proclamations were issued by Marion Mayor Scott Schertzer and the Marion County Commissioners.
"Our youth are the heart of the community and it's our responsibility to provide a place that will positively influence and guide them during critical out-of-school hours," said Sean DeWitt, interim executive director of the Marion Club. "More than 11 million youth have no place to go after school and Boys & Girls Club offers a place where kids can learn, grow and be successful in school and life. Boys & Girls Club Week is a great time to see how we impact the lives of young people through programs aimed to promote academic success, a healthy lifestyle and good character and leaderships skills."
During the weeklong celebration, participants can also visit greatfutures.org/bgcweek to take a virtual tour of Boys & Girls Clubs.  Virtual tour participants are eligible to enter a contest for a chance to win a $250 Jo-Ann Fabric and Craft Stores gift card.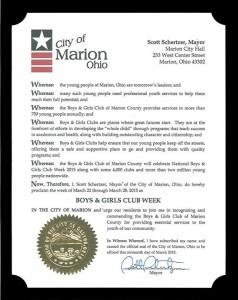 In addition to activities during National Boys & Girls Club Week, the Marion Club is kicking off their annual fundraising campaign. Volunteers are hoping to reach or surpass their goal of $30,000.
"Our Club is making a difference every day in the community," said Cheryl Bowers, board president of the Marion Club. "Last year we served nearly 800 youth, a number that continues to grow. But there are still many more children in our community that need the kind of positive influence and guidance the Club provides."
"To reach more youth and families in need, we need the support of the community through their donations of time and money," said Bowers.
Funds raised will help sponsor kids to attend the Club's summer program and provide quality after school programs such as Power Hour homework help, computer skills training, reading comprehension activities, arts and crafts, fitness and sports, and character and leadership programs.
The Boys & Girls Club's mission is to enable all young people, especially those who need them the most, to realize their full potential as productive, responsible and caring citizens.
The Boys & Girls Club of Marion County, founded in 1996, is a non-profit, privately funded 501(c)(3) organization and depends on private donations and volunteers to accomplish its mission.
To make a donation, volunteer, or to learn more about programs and activities offered by the Boys & Girls Club of Marion County, visit www.bgcmarion.org or call 740-387-3462. The local Club is located at 565 Oak Street in Marion and their programs are open to youth throughout Marion County.