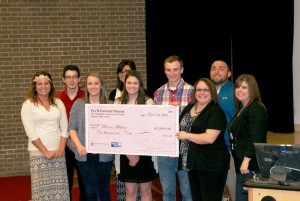 In a case of life imitating art, a group of students from The Ohio State University at Marion personally discovered that, "Paying It Forward," much like in the 2000 blockbuster movie starring Kevin Spacey, Helen Hunt, and Haley Joel Osment, has given them a sense of gratification and social consciousness they had yet to experience.
Students in Amy Tibbals' English 2367.01S course awarded a total of $4000 in grants to Marion community non-profit organizations at their semester ending Pay It Forward celebration in Morrill Hall Auditorium on Thursday April 30th, 2015.
Students presented awards to three local non-profit organizations with the goal of impacting positive, long-term change in the areas of education, income, and health in Marion, Ohio.
The students participated in a competitive grant process in which they took organizations' grant applications, made a first cut which narrowed down the finalists to three organizations, researched each organization and what it did to help the community, wrote papers arguing how the funding should be awarded, and participated in an hour-long debate to determine the final grant awards.
The students awarded Marion Matters "Getting Ahead in a Just-Getting'-By World" program $2000.  This program helps to end the cycle of generational poverty.  Next, they awarded the Ohio Heartland Community Action Commission's United Community Prescription program $1000 to help those in financial need, receive free or reduced-rate medication. Finally, they gave the Boys and Girls Club of Marion $1000 to help renew their Stride Program.  This is an online educational program that helps elementary-aged children improve reading and math skills.
Course instructor Amy Tibbals felt these types of English courses teach students far more than she could ever put in a lesson plan.
"Yes, they become better researchers and writers," said Tibbals, "but they also become more caring and informed citizens."
"It's an experience that lasts far beyond the four walls of my classroom," she added.
Ohio State Marion general business major Alex Taha echoed Tibbals sentiments.
"This class has taught me to appreciate everything that I have," explained Taha, "but to also help out others around you when you can because you never know when you may need something from someone."
"If you are passionate and want to do community service it is literally right in front of you," he added.
Another member of the class, Hannah Burbaugh, who is majoring in radiologic science and therapy said, the Pay It Forward experience has taught her many life lessons and positively impact her desire to give back to the community in the future.
"I have learned to value non-profit organizations, and take notice of the social issues within my community," she said.
"Because of this class I will try to help in any way I can," said Burbaugh, "whether it's through donation, volunteering, or any other action that can help the community."
This is the fifth year that the Ohio State Marion English Department has offered Pay It Forward grants.  This year the Marion Pay It Forward funds were provided by the United Way of Marion County and Ohio State Marion.
Additionally, students in English 3304, Business and Professional Writing, created pieces that built on the Pay It Forward process.  They wrote grant deadline reminder letters to prospective applicants, and they created projects aimed at persuading students in the English 2367.01 course to grant the entire funding to one specific organization.
Once again, Pay It Forward has made a valuable connection between Ohio State Marion students and the community of Marion.
For more information on future Pay It Forward English courses at Ohio State Marion, please contact Amy Tibbals at tibbals.3@osu.edu.