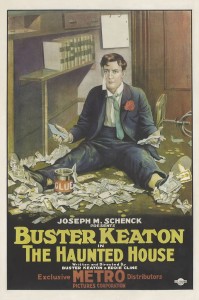 Silent film star Buster Keaton, known for his comical timing and deadpan facial expressions, will be featured at the second annual Harding Home Silent Movie Night on Thursday, June 18, 2015.
The casual event will be held at 7 p.m. in the large tent in the side yard of the Harding Home Presidential Site, 380 Mt. Vernon Ave. Attendees are asked to bring their own chairs.
"This was such a fun event last year, we just had to do it again," said Harding Home Site Manager Sherry Hall. "We know that Warren and Florence Harding loved movies and were fans of comedies. Sharing the same movies as the Hardings gives us insight into what qualified as good, solid entertainment in their time."
Attendees will be treated to popcorn, ice cream sundaes and beverages. No admission will be charged, but a freewill donation will be taken.
Buster Keaton, formally known as Joseph Frank Keaton, grew up in a vaudeville family and started performing in his parents' act at the age of three. Born in 1895, Keaton was said to have gained his nickname of "Buster" when famous magician Harry Houdini witnessed 18-month-old Joseph tumbling down a flight of stars. "Wow, that was a buster," Houdini supposedly said.
"The Scarecrow," which Keaton and Edward Cline wrote and directed in 1920, will lead off Silent Movie Night. Keaton stars as a farmhand, and Cline as a hit-and-run driver. A dog named Luke also appears (although he doesn't earn a film credit). The premise of the movie is two farmhands competing over the same girl. The second leg of the doublefeature is "The Haunted House," written by Cline and Keaton in 1922. Keaton plays a bank clerk who ends up in a seemingly haunted house which is actually a thieves' hideout.
Keaton hit the peak of his career in the mid-1920s, when he earned $3,500 per week. That amount would translate to nearly $48,000 per week today. He purchased a lavish home in Beverly Hills for $300,000, which would be more than $4 million today. He lost his wealth during the Great Depression, and struggled professionally for many years before jumpstarting his career with a couple of films in the 1950s. Married three times, he was the father of two sons. He died in 1966.