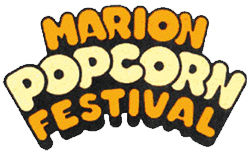 The 2015 Marion Popcorn Festival Fine Art Judged Competition, Show and Sale is being held September 10, 11, and 12 at Marion City Hall in downtown Marion. This event is held in cooperation with the Mid-Ohio Fine Art Society, Inc.
Because the show is limited to 200 pieces, those interested artists should register their work early.
Entry categories include painting, drawing, photography, sculpture, and mixed media. Top winners in these categories, along with the People's Choice Award winners, will be given awards and cash prizes. MOFAS Award includes a one year paid membership to the Mid-Ohio Fine Art Society.
The entry fee is set at $10 per piece with a three-piece limit. Entrants can register online or obtain instructions to download paper forms at www.midohiofineartsociey.com. All artwork is due at Marion City Hall, 233 West Center Street, Marion, Ohio, between 5 p.m. and 7 p.m., Wednesday, September 9, 2015.
Additional questions can be directed to Anne Quilter at 740-387-8067.
This event is sponsored by the City of Marion and the Mid-Ohio Fine Art Society, Inc.
Information regarding the Marion Popcorn Festival is available online at www.popcornfestival.com.