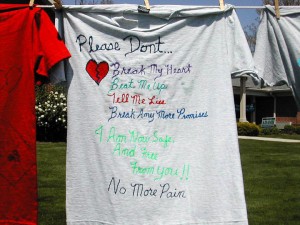 In recognition of National Domestic Violence Awareness Month, Turning Point will be holding their annual Picnic on the Porch on October 2, 2015 from 11:00am to 1:00pm. They are also celebrating 35 years of protecting victims of domestic violence.
The Picnic on the Porch is open to anyone who would like to stop by for some picnic fare.  The Turning Point staff, board members and volunteers will be on hand to talk about their programs and services.  It is an opportunity to learn more about the issue of domestic violence with the ultimate goal of breaking the cycle.
In addition to the picnic, Turning Point will be displaying their segment of the Clothesline Project throughout the month of October.  The Clothesline Project is a visual display that bears witness to the violence against women.  During the public display, a clothesline is hung with shirts.  Each shirt is decorated to represent a particular woman's experience, by the survivor herself or by some who cares about her. Turning Point's segment of this project contains over 800 t-shirts – a good portion of which will be in front of the agency.
If you cannot make the picnic, you are still encouraged to stop by anytime in October to walk around and read the shirts.  Turning Point officials explain that they tell a very real story about the victims they represent and provide real insight into the pain of domestic violence.
Turning Point offers a 24-hour hotline for victims of domestic violence.  If you or someone you know needs help or if you would like more information, you are urged to call (800) 232-6505 or (740) 382-8988 or online at www.turningpoint6.org.
Turning Point is located at 330 Barks Road West in Marion.