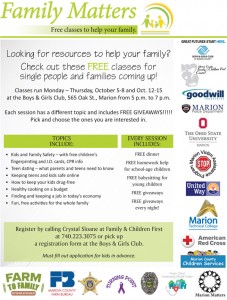 The Marion County Family and Children First Council is launching Family Matters, a free two-week program that focuses on topics that strengthen family bonds, open lines of communication and increase knowledge of local resources.
The program, which starts on October 5, 2015 and goes through the week of October 12, 2015, will be held at the Boys & Girls Club of Marion County, 565 Oak Street, four nights a week. Sessions will be held 5-7 p.m. Mondays through Thursdays. Meals, babysitting, and homework assistance will be provided.  Each session will last about two hours.
Each evening will highlight a different topic. Examples of topics are family stability, family engagement, family sobriety and family safety. Discussions will center around subjects like healthy teen dating, how to cook healthy meals on a budget and how to communicate with family members.
The idea behind the program is to give families access to experts and professionals in our community who will share knowledge and skills that help a family become strong and stay stable. Sessions will serve as teaching opportunities and build awareness of services and resources available in Marion.
About 20 agencies including Turning Point domestic violence shelter and awareness program, the Marion Crawford Prevention Program, the Marion Victim Assistance Program and Farm to Family are joining together to make the program possible.
The program is free. To register, call Crystal Slone, director of Marion Family and Children First Council, at 740-223-3075. You can also find more details and a registration form at the Boys & Girls Club website by clicking here. Or, you may also send an email mcfcfc@marion.net.