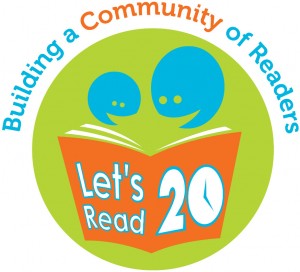 United Way of Marion County, Let's Read 20 and other community partners will come together on Monday, October 19, 2015 with thousands of others to shine a light on literacy across the world.
With the theme of "Open a Book. Spread the Word. Make an Impact.", this is an initiative that brings the power of volunteers together to impact literacy in the community. Read Across the Globe is about more than just a one-day event. Read Across the Globe aims to give children an experience that cultivates positive reading habits and inspires civic participation in communities worldwide.
"We are excited to have a variety of community partners involved," said Let's Read 20 Director Mike Ring. "This event is a starting point for ongoing conversations about literacy with children, parents, volunteers and community members…and that is what Let's Read 20 is all about."
A United Way partner agency, Let's Read 20's mission is dedicated to building a community of readers by encouraging everyone to read to a child for at least 20 minutes each day from birth through elementary school. So far this year, Let's Read 20 has distributed over 56,000 books to children throughout Marion County. This initiative furthers United Way's community investment efforts in the areas of Education, Income and Health.
On October 19th, volunteers will be stationed at Read Across the Globe partner organizations including; Boys & Girls Club of Marion County, Center Street Clinic, Marion County Children Services, Marion Public Library, Marion Shelter Program, Rushmore Academy, Turning Point, as well as, George Washington, McKinley and Garfield Elementary Schools.
You are a huge part of making Read Across the Globe a reality. If you are interested in volunteering for this community impact event, contact Natalie Longmeire at the United Way office – 740-383-3108 or by e-mail at natalie@unitedwaymarion.org.