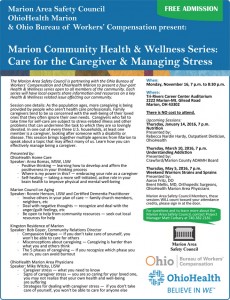 The Marion Area Safety Council is partnering with the Ohio Bureau of Workers' Compensation and OhioHealth Marion to present a four‐part Health & Wellness series open to all members of the community. Each series will have local experts share information and resources on a key Health & Wellness related issue affecting our community.
There is no cost to attend these sessions which are open to the public.
The first session, scheduled for Monday, November 16, 2015, will focus on caregivers. The session runs from 7:00pm to 8:30pm at Tri‐Rivers Career Center Auditorium, 2222 Marion‐Mt. Gilead Road in Marion.
As the population ages, more caregiving is being provided by people who aren't health care professionals. Family caregivers tend to be so concerned with the well‐being of their loved ones that they often ignore their own needs. Caregivers who fail to take time for self‐care are subject to stress‐related illness and other problems that can undermine the task to which they are so lovingly
devoted.
In one out of every three U.S. households, at least one member is a caregiver, looking after someone with a disability or disease. This session brings together multiple agencies from Marion to speak about a topic that may affect many of us. Learn how you can effectively manage being a caregiver.
Presented by OhioHealth Home Care, speakers will include:
Anna Bomas, MSW, LSW

Positive thinking — learning how to develop and affirm the positiveness in your thinking process
Where is my power in this? — embracing your role as a caregiver
Self‐healing — taking a more self‐initiated, active role in your brain health to improve physical and mental well‐being Marion Council on Aging

Ronnie Henson, LISW and Certified Dementia Practitioner

Involve others in your plan of care — family church members, neighbors, etc
Deal with negative thoughts — recognize and deal with the anger/guilt feelings, etc
Be open to help from community resources — seek out local resources for help Kingston Residence of Marion

Bob Goyer, Community Relations Director

Compassion fatigue — If you don't take care of yourself, you won't be able to care for others
Misconceptions about caregiving — Caregiving is harder than what you and others think
The 5 phases of caregiving — If you recognize which phase you are in, you can avoid burnout

Mike Witzky, LISW, OhioHealth Marion Area Physicians

Caregiver stress — what you need to know
Signs of caregiver stress — you are so caring for your loved one, you may not realize that your own health and well‐being are suffering
Strategies for dealing with caregiver stress — if you don't take care of yourself, you won't be able to care for anyone else
Upcoming sessions include:
Thursday, January 14, 2016, 7 p.m.
Nutrition
Presented by: Rebecca Nardin Hardy, Outpatient Dietician, OhioHealth
Thursday, March 10, 2016, 7 p.m.
Understanding Addiction
Presented by: Crawford/Marion County ADAMH Board
Thursday, May 5, 2016, 7 p.m.
Weekend Warriors Strains and Sprains
Presented by: Aaron Fritz, DO, and Brent Mellis, MD, Orthopedic Surgeons,
OhioHealth Marion Area Physicians