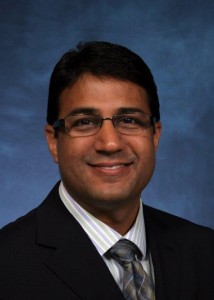 Mrunal Shah, MD, has been officially appointed vice president of Medical Affairs (VPMA) at OhioHealth Marion General Hospital, a position he has served in as interim since June.
In this role, Dr. Shah will continue providing clinical leadership support and administrative guidance for Marion General and its medical staff, as well as serving as a mentor to new medical staff members and clinical leaders.
"Dr. Shah has been part of the OhioHealth family for nearly 20 years and I've had the pleasure of working with him for many of those years," said Bruce P. Hagen, president, OhioHealth Marion General Hospital. "He is a compassionate physician, an exceptional leader and an effective teacher. He is a great addition to our leadership team here at Marion General."
Prior to taking the new role, Dr. Shah was system vice president of healthcare informatics and physician technology services for OhioHealth Information Services. His vast experience in that role proved invaluable to the Marion General team during the hospital's electronic medical record software implementation in September. In addition to his administrative and leadership roles, Dr. Shah has been a family practice physician for more than 15 years.
Dr. Shah received his Doctor of Medicine degree from Northeast Ohio Medical University. He completed his postgraduate training in Family Medicine at OhioHealth Riverside Methodist Hospital. He has also completed training in the OhioHealth Physician Leadership Academy.