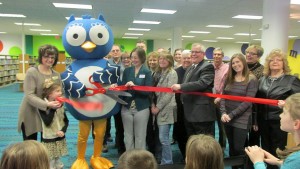 The Marion Area Chamber of Commerce recently attended a ribbon-cutting ceremony for the official unveiling of Marion Public Library's redesign project. The Library now features a new layout, a completely revamped Kids Area, new meeting room space, a gift shop operated by a library volunteer group called the BookMarks, and new operating hours for 2016.
A new Library mascot was also unveiled at the event, to the delight of the many children in attendance. The Library is asking the community for help in naming the large blue owl, with a naming contest being held online and in the Library through February 12th.  Visit their website at www.marionlibrary.org for more contest information.
The ribbon-cutting event was held on a Sunday in order to highlight the addition of Sunday hours for the new year.
The Library says their new look will help accommodate the diversity of users who have evolving expectations from their public library.