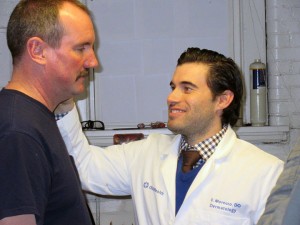 Firefighters know their job is dangerous. Entering burning buildings with little to no visibility, smoke inhalation (despite their equipment) and unstable foundations are common job threats. But when a local firefighter is diagnosed with melanoma cancer, and doctors sight it as an occupational hazard, fellow firefighters take notice. There are obvious threats that firefighters face (and expect); however, adding the possible link between fighting fire and cancer is something these men and women did not sign up to battle.
This was the case with Wade Ralph, Captain of the Marion City Fire Department, and his crew at the Marion firehouse when they heard the news that a Columbus firefighter, Mark Rine, was diagnosed with stage IV Melanoma. The prognosis included inhalation and absorption of carcinogens from fire.
Once diagnosed, Rine was on the hunt to find out more about the disease, the tie to firefighters, and most importantly – why. According to his website, sknluv.com, firefighters inhale carcinogens and absorb them through the skin at an alarming rate. For every 5 degree increase in their skin temperature, absorption of carcinogens increases by 400%. These carcinogens linger on their unwashed gear, helmets, and clothes long after the fire creating prolonged exposure.
Rine, who has become an advocate for the cause, holds training sessions to teach his firefighting brothers and sisters the signs, risk, and things they can do to avoid melanoma. One easy, preventative step firefighters can take is to schedule a skin screening from a dermatologist.
Ralph heard this news and took notice.
"Mark Rine contacted me in an effort to educate firefighters. As I heard his story, it really hit me hard and I decided we were going to do everything we could to prevent this from happening to my team. One easy thing to do was to get our skin checked out," Ralph said.
Ralph had heard of dermatologist Dr. Frank Morocco at OhioHealth Marion Area Physicians from his employees.
"I noticed a small spot on my skin. Two of my firefighters had cancerous spots and they had gone to Dr. Morocco to get them checked out, so I did the same," Ralph said. "We started talking about doing a screening for the entire department."
Ralph followed up and contacted Frank Morocco Jr., DO, an OhioHealth Dermatologist, with a request to do a department-wide screening – and through this – a partnership was born to screen close to 60 Marion firefighters. Morocco said he was happy to help because he is aware of the increased risk for firefighters.
"They are subjected to multiple carcinogens such as benzene, formaldehyde and diesel exhaust. These products can stay on equipment if not properly cleaned and result in continued exposure," Dr. Morocco said.
Not only did Dr. Morocco agree to do the screenings as a community service (something that he has done throughout the years), this time, he agreed to go to the firehouse to do them.
"Due to their strenuous work schedule it is hard for them to make appointments to see a doctor. With such an increased incidence of skin cancers in their profession, a screening is the only way we can ensure that we are helping these important individuals in our community," Dr. Morocco said of his decision to go to the firehouse.
Ralph is very passionate about the topic of cancer in firefighters and had several facts on the topic. He said that studies have shown that 50% of retired firefighters have cancer and 95% of funerals are not from fighting fire, but from cancer.
Melanoma is one of the most popular types of cancer, but diagnosis for testicular, non-Hodgkin's lymphoma, prostate, brain, colon, and leukemia are all cancers where firefighters have a higher probability than the general public. (source: sknluv.com)
"There are several preventative measures that we can take to decrease our risk," Ralph said. "Skin screening is an easy one. And thanks to OhioHealth, I can feel good about checking that off of the list for my crew," he added.
Dr. Morocco agreed that screenings are a great, simple, preventative measure to take.
"Skin cancer has one of the highest cure rates if detected early. I am very grateful that I am able to take this day to keep our firefighters healthy as they continue to keep this community safe 365 days a year, he said.  "Skin cancer is the most common type of cancer in the United States. One in 5 Americans will develop skin cancer in their lifetime. The five year survival rate for people whose melanoma is detected and treated before it spreads is 98% compared to 16% if it spreads to a distant location," he added.
Ralph has made some changes to help fight the melanoma statistics for his team beyond the skin cancer screening.
"We have worked out a rotation so that those who have been on fire calls can shower before going on another call. We are cleaning our helmets and gear, and wiping down at the scene of fires as quickly as possible ¬- even in between runs into the fires," he said. "It's not a perfect system. You get in such a routine. You come back, you're tired, often it's the middle of the night – but we are making changes. We have to," he insists.
Jennifer Knotts, OhioHealth Oncology patient navigator, who was enlisted to help coordinate the event and is proud to be a part of it and summed it up nicely.
"I think this is an amazing opportunity to give back to the first responders in our community.  They put their lives on the line for us every day, and I am proud to work for an organization that is giving back and working to help keep them safe," Knotts said of her involvement.
More Facts
A study conducted by the Marine Environmental Research Institute (MERI) discovered that certain flame retardants in burning household materials are cause of increase risk of melanoma in firefighters. The study provides clear evidence that firefighters are exposed to high levels of cancer-causing chemicals that are formed during fires by the burning of flame-retarded foam furniture, televisions, computers and building materials. Firefighters have much higher levels and different patterns of these chemicals in their blood than the general population.
The National Institute for Occupational Safety and Health (NIOSH) released its findings from a three-year study that also showed increased rates of cancer among firefighters. The study included a combined population of 30,000 firefighters from three large cities had higher rates of several types of cancers, and of all cancers combined, than the U.S. population as a whole, researchers from the National Institute for Occupational Safety and Health (NIOSH) and colleagues found in a new study.
The new findings are generally consistent with the results of several previous, smaller studies. Because the new study had a larger study population followed for a longer period of time, the results strengthen the scientific evidence for a relation between firefighting and cancer, the researchers said.
Lisa Ahonen, director of Oncology, Infusion and Wound Care at OhioHealth Marion General Hospital, is responsible for lining up the Marion community health screenings and said that it involves several volunteer staff, including physicians.  "Our focus is not only treating cancer, but preventing or diagnosing cancer at the earliest most curable stage.  At our last community screening, Dr. Morocco diagnosed a melanoma in one of the participants, which is the most serious type of skin cancer. The patient was diagnosed at an early stage and had a full recovery thanks to this community service by Dr. Morocco," she said.
"Marion is lucky to have Dr. Morocco. He is focused on prevention and is committed to provide skin cancer screenings to the community. He is also active on the OhioHealth Skin Cancer Advisory Committee, which is a group of doctors in the OhioHealth System that develop best practices for skin cancer screening, diagnosis, and treatment," said Ahonen.
You can schedule an appointment for a skin cancer screening by contacting Dr. Morocco's office at 740-383-7996.
OhioHealth Marion also offers free skin cancer, community screenings a couple times per year. The next skin screening is scheduled for May 5, 2016, from 5 p.m. to 7 p.m. with Dr. Morroco in the OhioHealth Radiation Oncology office at 1150 Crescent Heights Road, Marion.
To schedule an appointment for this event call 1-800-752-9119. These local skin cancer screenings follow the screening guidelines of the American Dermatology Association.