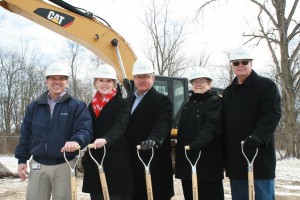 Aqua Ohio welcomed State Representative Dorothy Pelanda, County Commissioners Andy Applefeller and Ken Stiverson as well as Caledonia Mayor Maureen Welch to the Marion Water Treatment plant on Friday, February 26, 2016. Officials were there to kickoff construction of a new water treatment project.
The project involves construction of a new pre-sedimentation basin at the plant that treats water for Marion, Caledonia, Prospect and other parts of Marion County. Officials broke ground on the $5 million project, which is expected to be complete in June of 2016.
"The pre-sedimentation basin is the first step in our water treatment process," said Scott Ballenger, Manager for Aqua's Marion and Tiffin Divisions. "This is where we blend water from our three supply sources and allow solid particles to settle before entering the plant. We also add carbon to reduce taste and odor issues at this stage."
The new basin is replacing a two million gallon basin, which was built in 1914 and, in spite of improvements, is nearing the end of their useful life. The new basin will improve efficiency, while adding redundancy and reliability to the system.
The more efficient basin includes two parallel tracks that allow for automated removal of solids, better mixing between ground (18 wells) and surface water (Scioto and Little Scioto River) sources. It also enables cleaning and maintenance while the other track remains in service. The water treatment plant supplies an average of six and a half million gallons a day to approximately 50,000 people in the area.
Aqua Ohio is the Buckeye State's largest investor-owned drinking water and wastewater utility and serves about 500,000 Ohioans in 19 counties. Visit AquaAmerica.com for more information, or follow Aqua on Facebook at facebook.com/MyAquaAmerica and on Twitter at @MyAquaAmerica.