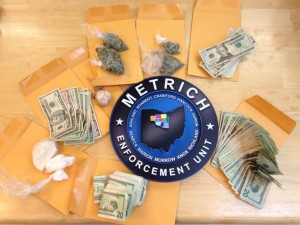 The METRICH/MARMET Drug Task Force executed three search warrants this week that resulted in several arrests and the elimination of a meth lab operating out of a local home.
On February 9, 2016, two warrants were served inside the City of Marion as part of a month long investigation into the sale of illegal drugs.
Just before 7:00pm, detectives from MARMET, with the assistance of the Marion County Sheriff's Office and Marion Police Department, served a warrant at 224 North Grand Avenue. Detectives said they located heroin, marijuana, cocaine, and money. Four people were arrested and taken to the Multi County Jail.
Arrested at the North Grand Avenue location were:
Tommy Owens, 25, for possession of cocaine and tampering with evidence,
Davon Megginson, 21, for possession of cocaine and heroin, tampering with evidence, and probation violation,
Shaquille Smith, 22, for permitting drug abuse
A'Darian Wellman for probation violation and obstructing official business
Investigators said they seized 35 grams of cocaine, 55 grams of crack cocaine, 40 grams of marijuana, 3 grams of heroin, and $900 cash.
At the same time MARMET detectives, with the assistance of Marion Police Department, served the second warrant at 618 Henry Street. The second warrant was issued in connection with the same investigation as 224 North Grand Avenue. Inside the house detectives said they located 0.5 grams of heroin and $1000 in cash. No one was arrested from Henry Street.
"The investigation is ongoing and more charges are expected in this case," said Lt. Chris Adkins. "MARMET detectives will continue to investigate and arrest those that choose to peddle poison in our community."
On February 11, 2016, as part of a seperate, two month investigation into the manufacturing of methamphetamine, detectives from the METRICH/MARMET Drug Task Force, with the assistance of the Bureau of Criminal Investigation and Identification, executed a search warrant at 468 Park Boulevard in Marion.
Jimmy D. Collins, 36, and Jacob D. King, 32, both of 468 Park Blvd, were arrested for manufacturing of methamphetamine.
"The residents of the 400 block of Park Boulevard are very lucky that a devastating explosion did not occur at 468 Park Blvd due to the manufacturing of this extremely dangerous drug"said Major Jay McDonald. "Methamphetamine is a hazardous material and its mere presence in this neighborhood posed a very serious risk to everyone in the area, not just those inside that house."
Marion Public Health and the Marion City Fire Department also assisted MARMET during this investigation.
MARMET asks that anyone with information on any additional locations/persons making methamphetamine or trafficking in drugs in Marion County to notify law enforcement immediately, either by calling 740-387-2525 or 740-382-8244 or by calling the TIPS Line at 740-375-TIPS.