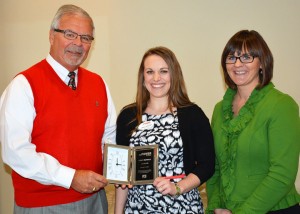 Libby Bender of Prospect is one of 19 farmers and agribusiness professionals who recently graduated from Ohio Farm Bureau's AgriPOWER Institute, Class VII.
Bender is employed by Ag Credit as an agricultural lender. She earned a degree in agribusiness and applied economics from Ohio State University in 2013 and is the 7th generation on her family's small grain farm. She is a Marion County Farm Bureau board member, River Valley FFA Advisory Committee member and a 4-H volunteer.
Ohio Farm Bureau launched AgriPOWER in 2008. It is an elite training program designed to help participants become leaders and advocates for agriculture. The yearlong program consists of seven two-to-three-day training sessions that focus on public policy issues confronting agriculture and the food industry.
Topics covered include public policy issues facing local communities, the state of Ohio, the nation and the world. Specific sessions help class members develop important skills necessary to becoming an effective leader and advocate, including spokesperson and media training, etiquette training, social networking, communications and more. One of the institute programs was held in Washington, D.C. to help class members gain a valuable understanding of national and global issues.
"Now more than ever, there is a demand for trained leaders to take the agriculture industry to the next level," said Melinda Witten, AgriPOWER coordinator. "AgriPOWER Institute has prepared these graduates to do just that."
In addition to Ohio Farm Bureau, AgriPOWER partners include Nationwide Insurance, Ohio Soybean Council, Southern Ohio Agricultural & Community Development Foundation, Farm Credit Mid-America, Ohio Pork Council, Ohio Cattlemen's Association, Ohio Beef Council, Farm and Dairy, Cargill, Ag Credit, AgriPOWER alumni, and Farm Bureaus in Brown, Fayette, Licking and Union counties.
Applications for the next class, Class VIII, are due April 15. Visit ofbf.org/agripower for applications and more information.