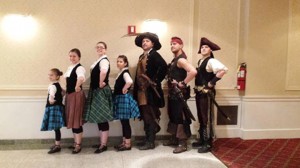 You are invited to join the Marion County Historical Society at Tri-Rivers Career Center in Marion on May 7, 2016 from 7 PM to 10 PM for an evening visiting the past, present, alternate past and future.  Come as you are, or as you want to be, from anywhere, anytime.
Enjoy dancing, demonstrations of historic crafts, watch a pirate sword fight, learn historic dances, listen to a live big band, meet Queen Elizabeth, explore the wonderful world of vintage music boxes, watch a silent movie, play Civil War era games, joust in the hall, view a Robotics demonstration, be a part of the costume parade and indulge in a Victorian tea. Dress from the past, present, alternate past and future is encouraged. Steampunk enthusiasts are welcome as well.
As a special tribute to mothers, every mom in attendance will receive a free flowering native perennial courtesy of Natives In Harmony nursery from Marengo, Ohio.
Event sponsored by the Marion County Historical Society, Special Occasion Catering of Upper Sandusky, Bethlehem Dance, Natives In Harmony nursery and Tri-Rivers Career Center.
Ticket Prices: $15 in Advance; $20 at Door.
For more info or to purchase tickets go to www.marionhistory.com or call 740-387-4255. Tri-Rivers is located at 2222 Marion-Mt. Gilead Road in Marion.