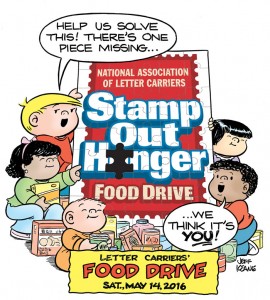 United Way is teaming up with the National Association of Letter Carriers and local food pantries for this year's Stamp Out Hunger event on Saturday, May 14th, 2016. This marks the 24th anniversary of one of America's days of giving.
Letter carriers walk through the community every day, often coming face to face with a sad reality for too many, hunger. So, each year on the second Saturday in May, letter carriers across the country collect non-perishable food donations from our customers. These donations go directly to local food pantries to provide food to people in Marion, OH who need our help.
This is a list of food pantries and partner agencies participating in the Stamp Out Hunger food drive for 2016: Beacon of Hope, Johnson-Rudd Community Center, Life Link, Heart of Ohio Homeless Shelter, Mobile Meals, Salvation Army, St. Vincent DePaul, Turning Point, and Victory Center Church of God.
Participating in this year's Letter Carrier Stamp Out Hunger Food Drive is simple. Just leave a non-perishable food donation in a bag by your mailbox on Saturday, May 14th and your letter carrier will do the rest.
If your organization is interested in participating, please contact the United Way of Marion County at: natalie@unitedwaymarion.org or call 740-383-3108.