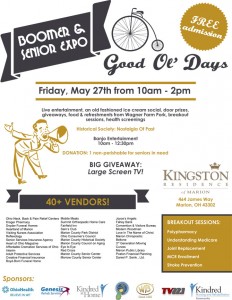 The 4th Annual Boomer and Senior Expo hosted by Kingston Residence of Marion is Friday, May 27th from 10am-2pm. The event is free admission to the public and includes 45 vendors who provide products, services and valuable information for Boomers and Seniors.
The Expo will include health screenings, door prizes, give-a-ways, good food and drinks and live banjo entertainment. Breakout sessions will include Stroke Prevention with Dr. Perchuk, Joint Replacement with Dr. Mellis, Polypharmacy with Butch Smith and Understand Medicare with Bede Agner.
Sponsors of the Boomers and Senior Expo include: Ohio Health Marion General Hospital, Kindred at Home, Genesis Rehab Services, Kindred Nursing and Rehabilitation, Peacock Water, Wilson-Bohannan and TV22.1.
Kingston Residence of Marion is located at 464 James Way, Marion, Ohio. For more information, contact Kingston at (740) 389-2311.