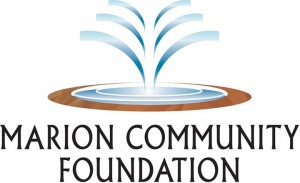 Marion Community Foundation's 2016 Community Grants Program application period is open. This year approximately $450,000 is available for local charities and nonprofit organizations serving the Marion area. Applications are available online with a deadline of July 21, 2016.
Experiencing remarkable growth and community support since its inception in 1998, Marion Community Foundation manages more than 200 charitable endowment funds, 17 of which provide nearly half a million dollars in discretionary grants for the annual Community Grants Program.
"Unrestricted funds created by generous donors are a critical part of the Community Grants Program," said Dean Jacob, President and CEO of Marion Community Foundation. "Donors such as Paul and Susan Ludwig, Kenny Martin, Chester and Mildred Roberts, Merle Hamilton, the Conway family, and others have established unrestricted funds over the years, which allow Marion Community Foundation's Grants Committee and Board to respond to Marion's highest priorities or most pressing needs each year. These fund creators had the belief that those that followed them would want the best for Marion and work toward it."
According to Julie Prettyman, Program Manager for the Community Grants Program, the Grants Committee seeks to make awards to unique programs or initiatives that will solve fundamental problems. Often the grants impact health and wellness, educational attainment, community and economic development, recovery services, arts and culture, and assistance with the immediate needs of children, families, and seniors.
"Nonprofits are challenged to propose programs to address Marion's needs," said Prettyman. "These often tackle the biggest community issues and offer solutions."
Because grant applications require detailed information from the organizations submitting them, noted Jacob, it is important that applicants have as much time as possible to prepare their applications.
Jacob advised prospective applicants that, "In writing your proposal, keep in mind that people reviewing the applications may not be familiar with your project or your agency.  Make sure, therefore, that you fully explain your project and what you hope to accomplish."
A full outline of what is required on the application is available as a PDF download from the Grants page of Marion Community Foundation's website at www.MarionCommunityFoundation.org. Applicants must be 501(c)3 or equivalent nonprofit organizations.
The 2016 Grants Committee includes: Susie Brown (chair), Hon. Deb Alspach, Jeremy Dunn, Kelly Garrett, Dr. Henry Heinzmann, Rev. Dan Kiger, Dr. Kim Stark, and Nicolle Wampler. The committee will review applications, may conduct applicant interviews, and provide recommendations to Marion Community Foundation's full Board of Directors, which will make award decisions in late September.
Applications for Marion Community Foundation's 2016 grants program are available online at www.MarionCommunityFoundation.org and must be completed and submitted no later than 5 p.m. on July 21. Questions may be addressed by calling 740-387-9704.