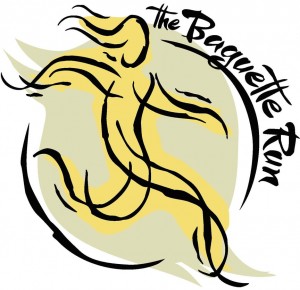 The ninth annual Baguette Run – A First Step against Domestic Violence – is being held Saturday, June 18, 2016 and will begin at the Panera Bread café on Route 95 in Marion at 8:00 am.  The event is to raise funds for victims of domestic violence and their families.  All money raised during this event will be exclusively donated to Turning Point.
Participants are invited to walk or run the course which will go through the University Heights area south of Panera Bread.  The entry fee for the run/walk is $25 and those who register by June 5th will receive an official race t-shirt. Participants can enter online at www.columbusrunning.com or may pick up a race form at the Panera Bread in Marion or Turning Point. Participants will also enjoy post-race refreshments provided by Panera Bread and a chance to win great door prizes. Fun activities like face painting are available for kids 12 and under.
Panera Bread and Turning Point are also seeking sponsors for the event. Area businesses, groups, or individuals may sponsor at the Purple Ribbon Premier Level ($1,000) the Baguette Level ($500), or the Croissant Level ($250). The Purple Ribbon Premier, Baguette and Croissant sponsors will be recognized at the race on June 18th.
For further information or to become a sponsor, contact Amy Cooperider at Turning Point – (740) 382-8988 or acooperider@turningpoint6.org.