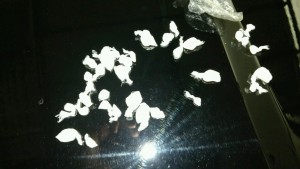 In the last three days, Marion safety forces say they have responded to twelve heroin-related overdose calls. One of which resulted in the death of a 55-year-old male Monday evening.
While investigating six overdoses on October 29, 2016, MARMET investigators said they were able to pinpoint the source of heroin in all of the cases. A suspect was identified and shortly thereafter Simon Harris was arrested for Trafficking in Heroin.
Marion Police Department Chief Bill Collins said that Harris is known to law enforcement from prior drug related offenses and is currently on probation for those crimes. Harris is originally from the Detroit, Michigan area.
On October 31, 2016, Marion safety forces were again deluged with six more heroin overdose calls. One of the six resulted in the death of a 55-year-old male from Marion. This call occurred just before 6:00pm and MARMET/METRICH began an intense investigation into the possible source of this deadly supply of heroin. Throughout the night several arrests took place that eventually led investigators to 860 Oak Grove Avenue in Marion. A search warrant was executed at this location and several people from Detroit, Michigan were located inside the residence. Two suspects were arrested and charged with various drug related and forgery related crimes.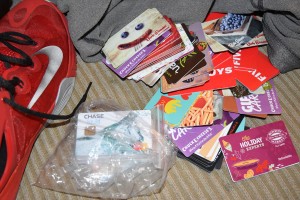 While searching this location, investigators said they found evidence of credit card skimming, a credit card imprinter, as well as hundreds of forged credit cards. In addition, hundreds of gift cards for numerous merchants were found. Collins said this evidence shows the prospective loss of hundreds of thousands of dollars to merchants and unknowing card holders.
"This simply expresses the importance of the far reaching aspects of criminal enterprises and the fact that many of the crimes go far beyond the simple selling of drugs," Sheriff Tim Bailey stated.
Of the 11 recent arrests by the MARMET/METRICH Drug Task Force, 6 of the 11 are currently on probation/parole or out on bond for drug related charges.
"My frustration in dealing with the same people time and again is overwhelming and disheartening," stated Chief Collins. "We will continue to do our job and arrest these career criminals in the hopes that someday they will get some prison time that amounts to more than a slap on the wrist."
Arrested on October 28:
DeAngelo White
Age: 35
Detroit, MI
Charges: Trafficking in Heroin
Karsavian Williams
Age: 21
Detroit, MI
Trafficking in Heroin
Possession of Heroin
Trafficking in Crack Cocaine
Pierre Bell
Age: 28
Detroit, MI
Trafficking in Heroin
On Probation
Donald Eaton Jr.
Age: 55
Marion, OH
Charges: Permitting Drug Abuse
Chad Friley
Age: 31
Marion, OH
Agg. Trafficking in Drugs
Jeffery Marshall
Age: 37
Columbus, OH
Trafficking in Heroin
Parole
Arrested on October 29:
Simon Harris
Age: 32
From: Detroit, MI
Charges: Trafficking in Heroin and Cocaine
Probation Drug Offenses
Arrested on October 31:
Krista Buckner
Age: 50
Marion
Charge: Probation Violation
Nicholas Shirey
Age: 37
Toledo, OH
Trafficking in Heroin
Corrupting another with drugs
Javon M Smith
Age: 19
Detroit, MI
Charge: Forgery
Ronald Wilson Jr.
Age: 23
Detroit, MI
Charges: Warrant for Trafficking in Heroin & Cocaine, after being taken to the Multi County Jail Wilson was found to have concealed 32 bags of heroin in his rectum and was further charged with Illegal Conveyance of Drugs into a Detention Facility a felony of the 3rd degree.
At the time of his arrest, Wilson was out on bond for a pending 3rd degree felony of Possession of Heroin & Cocaine
MARMET said they will likely seek the assistance of federal partners in hopes of prosecuting cases that lead to the death of an individual and the far reaching and impacting case involving the credit cards with hopes of charging those involved with engaging in a pattern of corrupt activity charges, commonly known as RICCO.
The MARMET/METRICH Drug Task Force was assisted in these investigations by Law Enforcement personnel from the Marion Police Department, Marion County Sheriff's Office, Ohio State Highway Patrol, Marion County Probation, Marion County Prosecutor's Office and the Marion County Coroner's Office.
As always, MARMET encourages citizens to help them in this all-out blitz on drug traffickers to report suspected Drug Activity to the Marion Police Department at 740-387-2525, the Marion County Sheriff's Officer at 740-382-8244 or the anonymously by calling the TIPS Line at 740-375-8477 (TIPS)