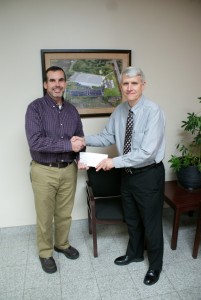 Marion's vinyl window manufacturer, Andersen Corporation, is the latest corporate contributor to the new science and engineering building taking shape at The Ohio State University at Marion.
Andersen's plant manager, Jay Dieckmann, presented Ohio State Marion's Dean and Director, Dr. Greg Rose with a check from the Andersen Foundation for $2,000 at the company's plant on Innovation Drive this past Tuesday.
"This is our home," said Dieckmann.  "We want to see our community grow and this project fits that agenda perfectly," he said.
In accepting Andersen's gift, Rose noted that several hundred Ohio State engineering students are enrolled on the Marion campus each year and they will soon move their classes to the new building slated to open this coming summer, in time for the 2017 fall semester.
"We expect a number of those students may take internships or be available for engineering positions at Andersen as time goes on," said Rose.
Andersen joins over 200 other corporate and individual donors to the new science and engineering building.  While the largest share of the $15.5 million cost is being covered through Ohio State Marion reserves, the university is trying to raise $3 million through philanthropic contributions such as Andersen's.  Naming opportunities for labs, offices, prep rooms, and even the building itself remain available.
"It would be wonderful to have as many of these spaces named as possible by the time we open the building," said Rose.
"We are very thankful to the Andersen Corporation and our other donors, who are making a significant investment in the future of this community," he said.