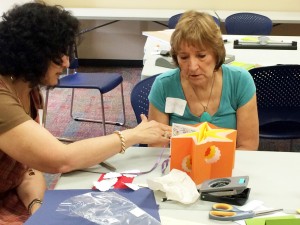 Marion Public Library will offer an opportunity for hands-on art instruction geared towards older adults (aged 62+) starting in January 2017.  The 8-week course, Exploration of Books as Art Objects, will be facilitated by Master Instructional Artist, Debra Fink Bachelder who has a graduate degree in gerontology and aging studies.
The course begins on Friday, January 6th and meets each Friday until February 24th.  Each class will run from 9:30 am until noon.
Participants will learn to make traditional and contemporary book forms while exploring interpretations of books as art objects.  Beginning with concertinas and progressing to multiple signatures, this workshop will emphasize skill building and personal expression.  Pages may also contain envelopes, pockets, and unusual folds to surprise viewers. Art books are ideal vessels for poems, prose, drawings, photos, and collected ephemera.
Spots are limited, so those interested are encouraged to commit to attending the course as soon as possible by calling the Library at 740-387-0992.
This program is being offered free of charge and is made possible by a grant from the Ohio Arts Council.