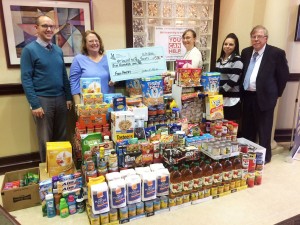 When Marion Community Credit Union launched their canned food drive in September, it came with a larger goal than they'd ever attempted – 1,000 pounds. Once the final numbers were in, they were looking at that goal in the rearview mirror. Donations collected at their two Marion branches tipped the scales at 1,100 pounds.
Daniel Bradshaw (Business Development Officer at MCCU) said it wasn't really much of a surprise.
"Our members always step up to these kinds of challenges," he explained. "They believe in and support the Marion community. That's one of the reasons they chose a Marion Made financial institution."
On Friday, November 11th, the entire MCCU staff went to St. Vincent de Paul food pantry on North Main Street to stock the pantry shelves with the donations. They also presented a check for $500 which will be used to make purchases from the Mid-Ohio Food Bank. Brett Jolliff, owner of local business Willy and Wade, helped out by lending the use of the company's truck for the delivery and even stocked some shelves himself.
"This really was a community effort," said Bradshaw. "It couldn't have been this successful without the work of a lot of different people both inside and outside Marion Community Credit Union."
Marion Community Credit Union is a full-service financial institution established in 1960 and currently offering checking, auto loans, personal loans, home loans, and additional financial products to anyone who lives or works in Marion or Morrow County. They have two locations in Marion (300 Barks Rd E & 810 Kenton Ave) and can be reached through their website (www.marioncu.com) or via phone (740-389-9960).