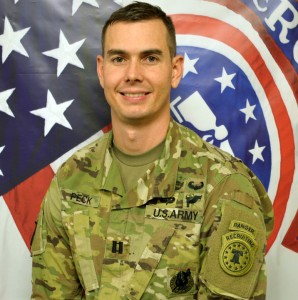 Captain Evan M. Peck assumed command of the Marion Recruiting Company in November 2016. This company is part of the Cleveland U.S. Army Recruiting Battalion. The outgoing commander was CPT Jonathan Ogden.
A Texas native, CPT Peck graduated from Ohio State University in Columbus, where he earned bachelor's degrees in math and sociology. He contracted with the University's ROTC Program in 2004, was commissioned as an Infantry Officer in 2008, and served as a Gold Bar Recruiter for the Buckeye Battalion. He has served in Combat Arms and Combat Support assignments throughout his career.
His military education includes Infantry Basic Officer Leader's Course, Sniper Employment Leader Course, Military Intelligence Captains Career Course, FMSO Open Source Intelligence Course, and Space Cadre Basic Course I and II.
CPT Peck's assignments include the 101st Air Borne Division and a 12-month deployment to Afghanistan. Following completion of the Military Intelligence Captains Career Course, he was assigned to the 101st Combat Aviation Brigade as the 5th Battalion Intelligence Officer.
"I am excited to lead the Marion Recruiting Company and enhance our relationship with this great community; to help young men and women recognize and achieve their maximum potential," CPT Peck said. "The Army and Army Reserve are springboards that propel an individual to the pinnacle of leadership, discipline, and personal excellence.  I am looking forward to working with the great Americans of this community towards that goal."
To speak to CPT Peck or learn more about opportunities in the United States Army, call (740) 383-4763 or email evan.m.peck.mil@mail.com. You can also visit the Company's Facebook page at https://www.facebook.com/USARECMarion or stop by the Marion Recruiting Company at 131 S. Prospect St. in Marion, OH.