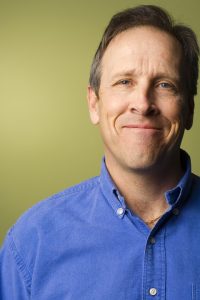 America's #1 requested comedian on SiriusXM, Jeff Allen is scheduled to perform at the historic Marion Palace Theatre on Saturday, April 22 at 8:00 p.m. For the best seating, patrons are encouraged to order tickets early for this event.
Regarded as one of the premium clean comedians working today, Jeff seamlessly combines fresh, hilarious humor with a good dose of inspiration, creating a show for all ages to enjoy. After three decades on the comedy circuit, Jeff has proven he is the best at what he does – making people laugh as hard as humanly possible.
As one of America's funniest storytellers, he's a comedian who can have the audience roaring with laughter at a casino in Vegas and then bring down the house at the Baptist Youth Missionary Board — doing the exact same act. He says, "Funny is funny. What makes people laugh works anywhere. I don't change a word."
Ironically, Jeff's own story was not always funny and he admits he has taken the low road to happiness. He shares his life's trials in his stand-up routine, "I Can Laugh About It Now."
The show is the hilarious saga of a brilliant comedian who did everything he could to destroy his life then turning his life around at the age of 40. Nothing is held back during the show. "I Can Laugh About It Now" leverages Jeff's comic genius, taking audiences on a raw, inspiring, sidesplitting ride through the tragedies and triumphs of life, relationships, and the universal struggles in raising a family.
Jeff has been seen on every cable comedy show in the U.S. including Comedy Central's "Premium Blend" and VH1's "Standup Spotlight." His one hour special, "Happy Wife, Happy Life"® aired on the Odyssey Channel and Family Net. With a unique perspective on his experience of marriage gone wrong and redeemed, he's given laughter and encouragement to millions of people. He's been featured at some of the most prestigious comedy venues in the world, such as the Grand Ole Opry, the U.S. "Comedy Arts Festival" in Aspen and the "Montreal Just for Laughs International Comedy Festival." He also headlined his own national comedy tour, "Jeff Allen & Friends: Funny People of Faith."
Tickets for the comedian's concert at the Marion Palace Theatre are priced at $20, $25, $30, $35 and seating is reserved. Jeff Allen is sponsored by Real Living Generations Realty and funded by Ohio Arts Council.
For more information or to purchase tickets, call the Marion Palace Theatre Box Office at 740-383-2101 or visit www.marionpalace.org.