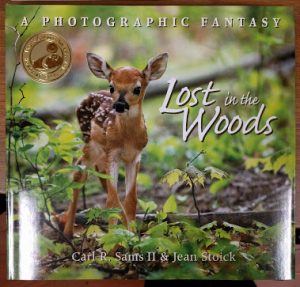 We all know the benefits of reading. We also know we should get outside and be more active. Over the holiday weekend, Marion residents will be able to do both at the same time, all while visiting a "local gem" in full spring bloom.
A Book Walk will be available for use at the Marion Tallgrass Trail (2093 Holland Road West) May 27-29, 2017.  A picture book will be deconstructed and then placed along the trail, creating another reason to get out and hike. Similar programs have been spreading all over the country to encourage kids and adults to enjoy reading and the outdoors together.
The book on display at the Tallgrass Trail will be Lost in the Woods by Carl R. Sams, a picture book that tells the tale of a newborn fawn who is waiting patiently for his mother to return. The other woodland creatures are worried the fawn might be lost, but he assures them that his mother will come back for him. Told through stunning nature photography that features many creatures that could be found at the Tallgrass Trail itself, readers will learn the happy truth about why the fawn was left alone for so long.
For more info on this and other programs and events at the Library, visit their website at www.MarionLibrary.org.