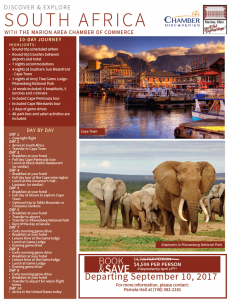 The Marion Area Chamber of Commerce has announced that it will be visiting South Africa on September 10, 2017 and is inviting chamber members, and family and friends of chamber members to join them.
Travelers will participate in a ten-day journey to South Africa, with 4 nights in Cape Town and 3 nights in Pilanesberg National Park. Tours of Cape Peninsula and Cape Winelands and two days of Game Drives will be included. You will also explore the historic towns of Franschhoek, Stellenbosch and Paarl where you will enjoy two wine tastings and a full cellar tour.
"This is truly an amazing opportunity to participate in an international journey to South Africa, where travelers can experience the country's culture, learn about its business climate, and make new friends," stated Pamela Hall, Chamber President.
Space is limited.
For more information, call the Marion Area Chamber of Commerce at (740) 382-2181, visit www.marionareachamber.org/TravelPrograms.htm or email Matthew Carbary at MCarbary@marionareachamber.org