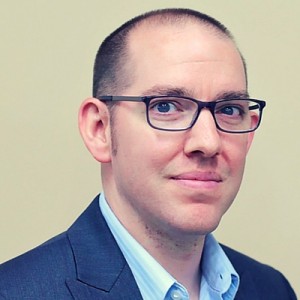 Daniel Bradshaw is no stranger to the stage. The Marion native has been part of several productions at the Marion Palace and other area theatres over the last 15 years. Now, as Business Development Officer at Marion Community Credit Union (MCCU), he wants to bring the theatre into classrooms. He's taking part in the CUES Next Top Credit Union Exec competition.
In its 8th year of existence, the contest is open to credit union professionals age 35 and under who have not yet reached the CEO level. Nominees must submit an application with a video explaining a proposed project designed to advance their credit union or the industry. Bradshaw's project is the development of financial education lesson plans for kids infusing theatre, creative writing, and comedy.
"Unless you're spending it, money is really boring," he explains. "Talking about budgets, savings, and credit can be pretty mundane for adults – imagine how it is for kids."
Previous attempts to educate area youth helped spark the idea for this project. During National Credit Union Youth Month this past April, Bradshaw developed lesson plans which he used at the Marion Public Library and Boys and Girls Club of Marion. While the programs were well-received, he knew there was room for improvement.
"I tried turning it into a story to engage the kids," Bradshaw says, "but I felt like I was just scratching the surface of what's possible."
The Marion Palace's annual School Matinee Series was also an influence. The impact of mixing theatre with education he observed while working there as a House Manager stuck with Bradshaw.
"No matter the subject – science, history, language arts – kids were leaning forward in their seats taking it all in," he explains. "You don't always see that in a classroom. I want to bring that kind of engagement to lessons about money."
Online voting for the first round of the competition is open at www.nexttopcreditunionexec.com until Monday, July 10th at 3pm. The top 10 vote-getters automatically move on to the next round where they'll refine their projects and write a blog post about their progress. A panel of judges will then narrow the field to the Top 5. These individuals will create a second video and give a presentation at a conference in October before a live audience (both in-person and online) as well as a panel of judges. Each finalist will be given a combined score consisting of 50% judging panel scores, 20% live audience votes, 15% online votes and 15% social actions—comments, likes and tweets—on their two videos and one blog post. Bradshaw hopes to hear his name called as the overall winner.
"It would be such an honor," he says. "And how great would it be for another MarionMade item like this educational program to get some national recognition."
Marion Community Credit Union is a full-service financial institution established in 1960 and currently offering checking, auto loans, personal loans, home loans, and additional financial products to anyone who lives or works in Marion or Morrow County.
CUES is an independent, not-for-profit, international membership association. Its mission is to educate and develop credit union CEOs, directors and future leaders.