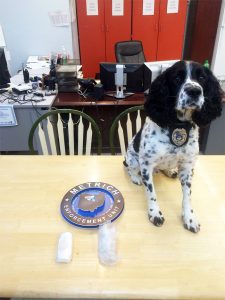 The MARMET Drug Task Force said they arrested two Marion residents after they located heroin in their vehicle during a traffic stop on Friday, August 4, 2017.
On August 4 at approximately 9:00pm, MARMET detectives, with the assistance of the Marion County Sheriff's Office and the Ohio State Highway Patrol, conducted a traffic stop on US 23 in Marion County. The 2005 Acura driven by Tylor Gruber was the subject of a drug investigation.
Officials said that MARMET Detective Lowe and his K-9 partner Stash was deployed and after a positive alert to the vehicle for illegal narcotics a search revealed 274.8 grams of suspected heroin.
Gruber and his passenger Shandra Holsinger, both 22 years old of Marion, were arrested and taken to the Multi-County Correctional Center for possession of heroin. Formal charges are pending with the Marion County Prosecutor's Office and the investigation is on going.
"This is great team work on the part of all Marion County law enforcement to keep a large shipment of heroin from making its way to the streets of Marion," stated Sheriff Tim Bailey of the Marion County Sheriff's Office.
Anyone wishing to report drug activity may do so by calling the TIPS line at 740-375-TIPS or 740-375-8477.