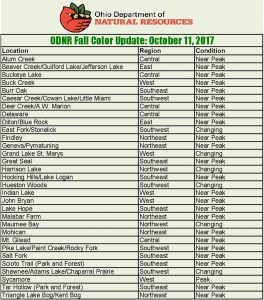 Ohio's state parks, forests and nature preserves are always free to enter and are starting to display a dynamic palette of oranges, yellows and reds that provide the perfect backdrop for hikers enjoying the fall color this weekend. Near peak conditions are expected across most of northern Ohio stretching down into the central portion of the state this coming weekend, according to the Ohio Department of Natural Resources (ODNR).
"The rain we experienced in at least part of the state was very welcomed as some trees, especially those in low lying areas and in urban areas, were starting to have leaves turn brown and drop due to the very dry and abnormally warm conditions we have had over the past couple of weeks," said ODNR Fall Color Forester Casey Burdick. "Most of the color is still concentrated along the edges of woodlands where maples and sassafras are really showing off great color."
People interested in finding out where to find most eye-catching leaves throughout the upcoming fall color season should check out fallcolor.ohiodnr.gov, Ohio's official guide to the changing colors. This website includes:
Weekly color updates and information to help plan a fall color adventure.
Weekly videos from Burdick highlighting fall color hot spots around the state.
Links to fall activities, scenic road trips, unique overnight accommodations at Ohio State Parks and more.
Fall is a distinctive season in Ohio with an identifiable color palette of reds, oranges and yellows; cooler temperatures; and aromas and tastes of autumn's harvest from apples to pumpkins. It's such a fun, vibrant few months to enjoy time with those closest to you that it feels like a holiday — or perhaps a Falliday. To help visitors find those special autumn activities in Ohio, the Office of TourismOhio has created a new landing page, Ohio.org/Fallidays.
ODNR and TourismOhio encourage people to take fall color photos and upload them to social media using the hashtag #OhioFall17. Follow @ohiodnr and @OhioFindItHere on Twitter, Ohio Department of Natural Resources and Ohio. Find it Here. on Facebook and @OhioDNR, @OHStateParks and @Ohiogram on Instagram to see more fall color photos.
Ohio State Parks is also having a photo contest this fall. Help us highlight the best of the great outdoors in a variety of categories for a chance to win great prizes, including free camping and gift cards! Enter today at ohiostateparksphotocontest.reserveamerica.com.
Color Condition Key for the Fall Color Report: Mostly Green – no real fall color seen. Changing – still mostly green, less than 25 percent color. Near Peak – significant color showing – anywhere from 30 to 60 percent color. Peak – peak colors – as much as 85 percent showing. Fading – fading from peak conditions and leaves falling to forest floor.