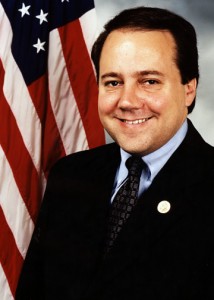 Longtime Columbus-area Republican congressman Pat Tiberi will quit Congress early to head a Columbus-based business group.
Tiberi, a senior member of the House Ways and Means committee, was first elected to Congress in 2000. In 2015, he lost a bid to chair the influential committee that writes tax laws, and became head of its health subcommittee. He contemplated a U.S. Senate run earlier this year.
In a statement from Tiberi's office, the congressman said he would leave office by Jan. 31.
Tiberi plans to join the Ohio Business Roundtable, a group made up of CEOs from some of the state's largest businesses, the New York Times reported. Tiberi's statement confirmed his intent to lead the group, saying it would let him "continue to work on public policy issues impacting Ohioans while also spending more time with my family."
Tiberi was close friends with former Rep. Steve LaTourette, a Bainbridge Township Republican who left Congress vexed that intransigence in both political parties made it difficult to pass legislation. Tiberi has expressed similar frustration, and the Times said his departure would signal further "discontent" among mainstream Republicans.
In September, Tiberi became head of a new centrist "Main Street Caucus" formed as the Capitol Hill counterpart to a GOP group formerly headed by LaTourette – the Republican Main Street Partnership.
Tiberi said that group would focus on "getting things done and delivering real results to the American people."
Tiberi's seat will likely be filled through a special election, setting off a scramble among would-be successors. A spokesman said Ohio Gov. John Kasich "will consult with the Secretary of State and take into consideration all issues, including costs, as he determines" when to conduct it.
Click here to read more of this story.