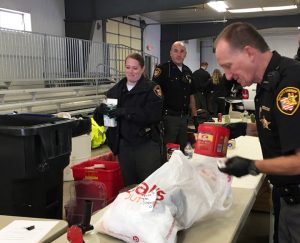 Medication Take Back Day organizers report that Marion County's fifteenth semiannual collection was a success in spite of the season's first snow and a change in location. 163 vehicles (along with two walk-ins) drove through Evers' Arena at the Marion County Fairgrounds, discarding 228 pounds of unused pills, liquids, syringes, and lancets for safe, confidential, environmentally-friendly disposal.
The location was a new one this year after being hosted for several years at the Marion County Building. Larry Yoder, a deputy with the Marion County Sheriff's Office, reached out to Marion County Fair Board Manager Cindy Wood to arrange a convenient set-up for drivers while keeping workers and volunteers out of the elements. Drop-off organizers hope to keep this change in venue permanent.
Ten MARMET Drug Task Force officers handled discarded medication on Saturday, with three pharmacy students from Ohio Northern University, OhioHealth pharmacy resident Charlie Christie, and pharmacy technician Karen Hawk on hand to identify specific controlled substances.
OhioHealth Pharmacist Dan Sheridan, one of the original Medication Disposal Day organizers from 2010, praised citizens who drop off their medications at this event for "taking action to make our community safer."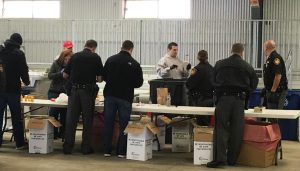 Saturday's collection netted 174 Hydrocodone, Oxydodone, Gabapentin, and Tramadol pills. Others not individually tallied include Fentanyl, Adderall, Morphine, and Percocet.
"We know that these medications are frequently abused and that's why medication disposal is so important," stated ADAMH Board Executive Director Brad DeCamp. "Medication disposal is one of the most simple, yet most powerful things a community can to prevent prescription drug abuse."
Aqua Ohio, another Medication Disposal Day co-sponsor, reminds residents that flushing no longer recommended for medication disposal.
If you missed the drop off, permanent medication drop-off sites are located at the Marion Police Department (233 West Center Street) and Marion County Sheriff's Office (889 Marion Williamsport Road East), as well as Walgreen Pharmacy (1321 Delaware Avenue, near Barks Road).
Angela Carbetta, Marion County Recycling & Litter Prevention Director, was especially pleased with the amount of recyclable materials handled at the event, reporting that Marca Industries processed approximately 2,700 pounds of paper and four 90-gallon containers full of medication bottles.
"We also managed to salvage two pick-up truck loads of cardboard," Carbetta added, noting that information on all prescription bottles and documents have been destroyed in compliance with HIPPA regulations.
Chief Deputy Aaron Corwin reminds citizens that they can anonymously report suspicious behavior by calling the Crime Tip Line at 740-375-TIPS (740-375-8477), and to call 911 right away if a person is unresponsive.
"Fentanyl is often mixed with other commonly abused drugs, resulting in increased deaths," Corwin added.
Communities across the country participated in the Drug Enforcement Administration (DEA) National Take Back Day. Getting unused prescriptions and over-the-counter drugs out of medicine cabinets helps reduce drug-related crime and the potential for addiction, drug abuse, and overdose deaths.
Individuals interested in learning more about resources for addiction treatment in Marion County can contact the ADAMH Board at 740-387-8531.